About
Voto Latino is a civic engagement organization focused on educating and empowering a new generation of Latinx voters, as well as creating a more robust and inclusive democracy. Through innovative digital campaigns, culturally relevant programs and authentic voices, we shepherd the Latinx community towards full realization of its political power.
In our 18-year history, we've been at the forefront of political, cultural, digital trends for organizing and activating Latinxs. Have a look at some of the highlights of our work:
November 2022: Voto Latino Celebrates Democratic Victories Following Midterm Elections
Voto Latino, the nation's premier Latinx voter registration organization, has registered over 55,000 voters and turned out hundreds of thousands more for the 2022 election cycle. Our organizational total stands at over 1,175,784 voters registered since 2012.
November 2022: Voto Latino Announces Win in Suit to Protect AZ Drop Boxes
A federal judge ruled and issued a temporary restraining order that prevents Clean Elections USA and its supporters from engaging in certain drop box monitoring activities in Arizona. The relief entered by the court addresses many of the concerns brought forth by Voto Latino and Arizona Alliance for Retired Americans in a lawsuit filed against Clean Elections USA on Monday, October 24th.
October 2022: Voto Latino and Arizona Alliance for Retired Americans File Lawsuit to Stop Harassment and Intimidation at Arizona Ballot Drop Boxes
The allied organizations are seeking a temporary restraining order against Clean Elections USA, its founder Melody Jennings, and the individuals who have been gathering at and surveilling drop boxes. The lawsuit alleges that Clean Elections USA and its founder are recruiting people to conduct an organized campaign to suppress the vote by harassing and intimidating voters at early ballot return drop boxes. Early voting in Arizona began October 7, and will continue until October 30. Although the Arizona Secretary of State referred the complaints to the U.S. Department of Justice for investigation, the plaintiffs argue that a restraining order is needed immediately to prevent additional incidents of voter intimidation.
September 2022: Voto Latino and Allies Win Challenge against 2 Provisions in Arizona Voter Suppression Law SB 1260
A federal judge has temporarily blocked the law's felony and registration cancellation provisions which unfairly limit voter registration and mobilization efforts and criminalize common voter behavior. This ruling follows a legal challenge filed in August arguing that SB 1260 violates due process, the First and Fourteenth Amendments as well as the National Voter Registration Act.
August 2022: Voto Latino Sues to Block Arizona Voter Suppression Law
Voto Latino has joined with allied organizations, Arizona Alliance for Retired Americans and Priorities USA, to file a lawsuit in federal court seeking to block the implementation of Arizona's SB 1260, legislation designed to discourage eligible voters from casting a ballot. The law, which criminalizes individuals and organizations who provide voting assistance to Arizona voters if the person they are helping is registered to vote in another state, was passed by the Arizona legislature and signed into law earlier this year. The law disproportionately creates barriers to vote for young voters, college students, older voters, transient voters who are more likely to be low-income and people of color. SB 1260 also permits third parties to provide county recorders with "credible information" on voters registered in other countries, opening the door to targeted voter suppression and monitoring of marginalized groups.
August 2022: Voto Latino and Texas State LULAC score a major victory for Texas voters in SB 1111 lawsuit
A federal court has blocked the state of Texas from enforcing SB 1111, a law that imposed unconstitutionally burdensome and discriminatory residency requirements on voters seeking to make their voices heard at the ballot box following a lawsuit launched by Voto Latino and Texas State LULAC in June 2021.
April 2022: Voto Latino challenges new Arizona "Proof of Citizenship" law
Voto Latino has joined a legal challenge to stop Arizona's new voting law requiring proof of citizenship to vote signed by Governor Doug Doucey. The legislation would create an unnecessary hurdle for eligible voters to register and jeopardizes the rights of thousands of already registered voters under the National Voting Rights Act.
February 2022: Voter purge halted in Cameron County
In response to a cease and desist from Voto Latino, election officials in Cameron County, Texas has announced that they will halt efforts to purge registered voters from the county's electoral rolls. Voto Latino sent the letter after learning that the Cameron County Department of Elections and Voter Registration was contacting eligible voters demanding they prove their citizenship within 30 days or be removed from the rolls in violation of the National Voter Registration Act.
January 2022: Launch of ¡Adiós, Sinema! Campaign to Hold Senator Accountable
Voto Latino has launched ¡Adiós, Sinema! to hold Senator Kyrsten Sinema accountable for her obstruction of critical voting reforms that would have protected the rights of millions of Latino voters. We are committed to a six-figure ad buy during the 2024 primary election campaign to remind Arizona Latinos about Sinema's refusal to support their enfranchisement.
October 2021: Voto Latino challenges discriminatory Texas congressional maps
For the second time in 2021, Voto Latino is suing Texas for discriminatory practices. Working with Texas voters and the support of the National Redistricting Action Fund (NRAF), Voto Latino has filed suit against Texas for diluting the voting power of communities of color in violation of Section 2 of the Voting Rights Act (VRA).
September 2021: 600K mobilized in California recall
In August, Voto Latino invested $1M in a program aiming to thwart California's recall effort against Governor Gavin Newsom. The efforts have now paid off with a significant surge in Latinx participation towards the end of the recall. The program worked to mobilize a GOTV audience of 600,000 young Latinx voters in the state. It focused on three tactics, primarily using digital-first outreach, contacted 500,000 voters via sms and deployed several influencers including Los Lobos, Making Movies, and meeting voters online.
September 2021: Voto Latino files lawsuit to protect Texan's right to vote
Collectively representing millions of Texans, Voto Latino, LULAC Texas, the Texas Alliance for Retired Americans, and the Texas American Federation of Teachers have joined forces to sue Texan election officials and block SB 1, a draconian voting law that is one of the most restrictive of its kind.
June 2021: Voto Latino files lawsuit against Texas SB 1111, Says Real Intention is to Suppress Voter Turnout
Following Texas Governor Greg Abbott signing into law SB 1111, Voto Latino and Texas State LULAC filed a lawsuit challenging the bill, which prohibits Texans from registering to vote using commercial post office boxes.
January 2021: 15% of All New Georgia Voters Since General Election Registered by Voto Latino
Between November 30th and December 7th, Voto Latino registered 11,528 new voters for the 2020 – 2021 Georgia Senate runoff, which accounts for 15% of all Georgians registered since the general election. Voto Latino has helped flip the state, registering 47,318 voters in Georgia from 2020-21. This win could not have been possible without our community partners including: Fair Fight, La Borinqueña, Athens AntiDiscrimination Movement (AADM), Blueprint 58 Atlanta, Georgia League of Women Voters, Georgia Muslim Voter Project, Georgia Sierra Club, Mijente, New Georgia Project, Pro Georgia, Southerners on New Ground (SONG), State Voices, Students for Tomorrow, and the Trans Queer Liberation Movement.
November 2020: 601k Voters Registered
Voto Latino, the nation's premier Latinx voter registration organization, has registered 601,330 voters for the 2020 election cycle. This month marked the final deadline for voter registration in states across the country. After a historic voter registration and empowerment campaign, as well as raising $33.7 million for its efforts, our organizational total stands at 1,120,784 voters registered since 2012.
September 2020: 300K Voters Registered
With just two months left to go before the most critical election of our lifetime Voto Latino has registered 300,000 voters. We are now more than halfway to our total goal of registering 500,000 new voters before the election. Now more than ever our communities are being empowered to ensure their voices are heard!
June 2020: 200K Voters Registered
A rush of civic engagement, organizing, and energy emerged in June, as people across the country took to the streets to protest police violence and the murders of George Floyd, Breonna Taylor, and the hundreds of other Black people killed by state sanctioned violence. In addition to taking to the streets, people were energized and registering to vote! Voto Latino registered more than 100,000 voters in the month of June, bringing the total number of voters registered in the 2020 election cycle to more than 200,000 — well on our way to meeting our 500,000 voters registered goal.
May 2020: 100K Voters Registered
Despite the COVID-19 pandemic cancelling public events, in-person voter registration drives, and generally keeping most people indoors, Voto Latino kept its voter registration program on track, passing the milestone of 100K voters registered in the 2020 cycle in May. Voto Latino primarily reaches out to young Latinxs where they already are: online. Therefore, our programming was able to continue at full strength even as our staff and volunteers shifted to entirely remote work. COVID-19 is a serious disease disproportionately affecting the Latinx community. But there is still an election coming in November, and our community must be registered to vote and ready to turnout when the time comes. If anything, this crisis has further demonstrated the need for accountable leadership that cares about meeting the needs of our communities.
March 2020: Super Taco
Tuesday
Super Tuesday, March 3, 2020, was a major day for Latinx voters. After Super Tuesday, 56 percent of Latinx voters had a chance to participate in the primary, shaping the race for the Democratic presidential nomination. Fresh off registering 75,000 voters in time for major primary deadlines, Voto Latino mobilized voters through video content, email and SMS GOTV messages, a partnership with Lyft to give thousands of voters free rides to the polls, and an event in Houston to give free tacos to voters.
January 2020: Register to Vote in Steve Madden Stores with Voto Latino
Voto Latino and Steve Madden kicked of their $1 million 2020 partnership with an initiative that lets any Steve Madden customer at all 81 retail locations start the voter registration process by texting a code and receiving the form directly on their phones.
November 2019: Voter Registration in Virginia
In 2019, Voto Latino was there making sure that Latinx voters in Virginia were registered, engaged, and ready to vote. In Virginia, we registered 4,224 new voters. For our GOTV efforts, Voto Latino reached an estimated 183,000 Virginians with digital ads, texted voting reminders to 10,59 Virginia voters, and mailed voting reminders to 19,368 Virginia voters.
According to the Virginia Public Access Project, turnout in Virginia increased by almost 38% from the 2015 Virginia election. Early voting turnout in Virginia for young voters increased by more than 300%. Turnout rates at college precincts and amongst millennials increased by 91%, almost doubling the 2015 turnout.
September 2019: The Latinx Box
To celebrate the culture, entrepreneurship, and creativity of the community for Latinx Heritage month, Voto Latino gave away 50 Latinx Boxes – filled with items created with love by and for Latinxs.
March 2019: Somos Más Kicks Off Census Campaign on Cesar Chavez Day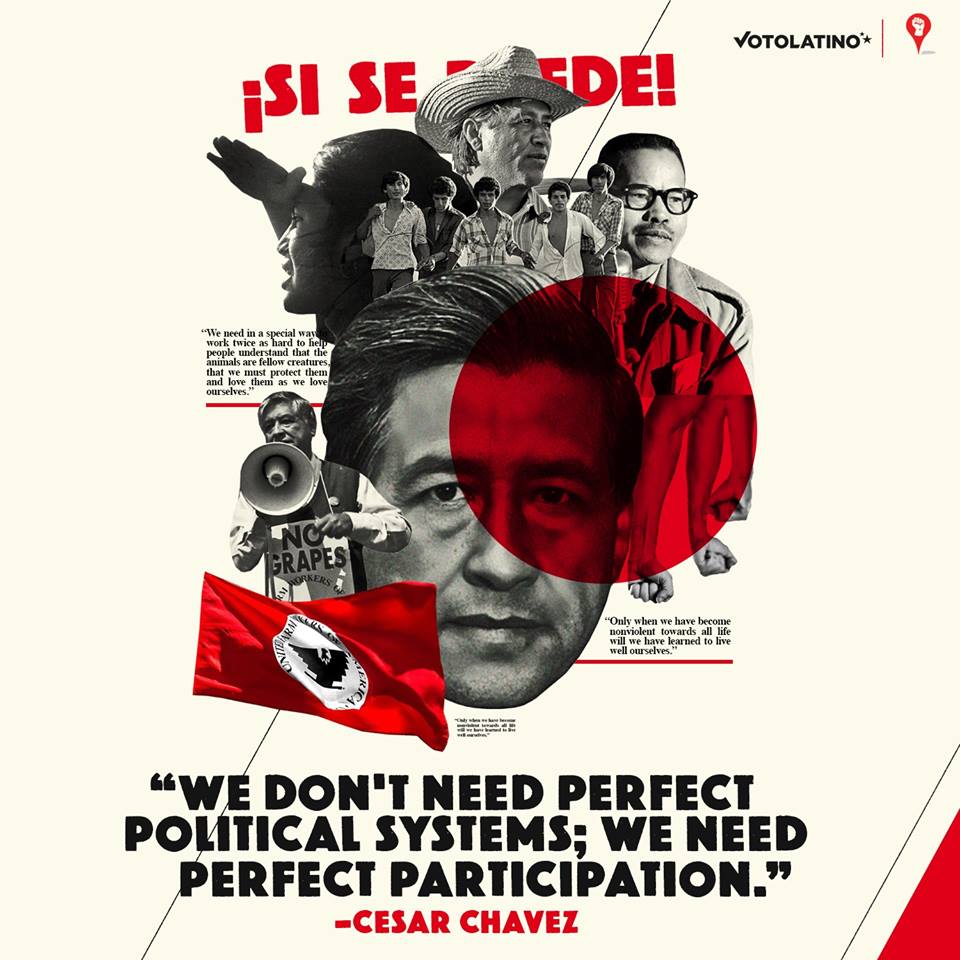 One year before the 2020 census, Voto Latino and the Somos Más coalition kicked off its census campaign to educate Latinx communities on the importance of the census and encourage perfect participation in 2020.
November 2018: Latinx Voters Make Historic Midterm Impact
Voto Latino registered 202,399 new voters in time for the 2018 midterms — 77% of whom voted. The election saw historic turnout among Latinx voters: 11.7 million showed up to the polls, and nearly 25% of Latinos who voted in 2018 were voting in a midterm for the first time.
June 2018: Voto Latino Launches the Somos Más Campaign to Register 1 Million New Latinx Voters
Together, somos más. The Somos Más campaign aimed to register young people to vote in time for midterms and the 2020 presidential election, in states with high Latino populations, specifically Texas, Nevada, Colorado, Arizona, New Mexico, Florida, and California.
November 2016: Voto Latino Registers 177k Voters

2016 was a record year. With the help of more than 2,000 volunteers, hundreds of strategic partners and a staff committed to empowering our community, we surpassed our goal of 150,000, ultimately registering 177,218 voters. Voto Latino has now registered more than half a million voters, well on our way to registering 1 million by 2020.
October 2016: Junot Diaz PSA
Days before the election, Voto Latino released this video urging all members of the Latinx community to be brave and go vote.
September 2016: Ganas PSA
This PSA to encourage civic participation and voter registration starred cast members of the Hulu hit show East Los High and directed by Ricardo de Montreuil.
June 2016: BRAVE Campaign Launches
Ahead of the 2016 election, Voto Latino launched Brave, a campaign to showcase stories of those who have shown great bravery in the face of adversity. Moriah Peters partnered with Voto Latino to release the campaign theme song.
March 2016: VoterPal App Launch
SXSW 2016 marked the launch of Voto Latino's own voter registration app, VoterPal. Available for iOS and Android, VoterPal makes it easy to register your friends and family to vote on the go! Download VoterPal here: www.votolatino.org/voterpal
March 2015: Voto Latino Turns 10
While 2014 marked Voto Latino's 10-year anniversary, we were too busy to celebrate! In March of 2015 we finally got around to this with a party at the Hamilton Live in Washington, DC. We were joined by our celebrity supporters including Rosario Dawson, America Ferrera, Wilmer Valderrama, as well as Grammy-award-winning group La Santa Cecilia. We also announced the winners of our VL Innovators Challenge!
November 2014: Yo Soy Health Campaign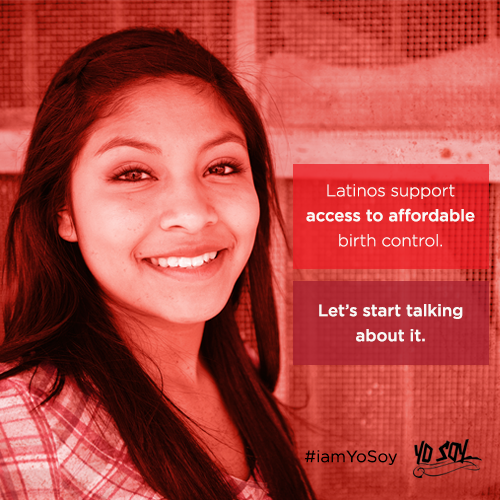 Voto Latino, with key health partners, launched Yo Soy, a national campaign to end the stigma around sex education, birth control, abortion & young parenting within the Latino community. Partners include Advocates for Youth, Organization for Latina Opportunity and Reproductive Rights, California Latinas for Reproductive Justice, Hispanic Federation, and the National Latina Institute for Reproductive Health.
September 2014: Hispanic Heritage Month of Action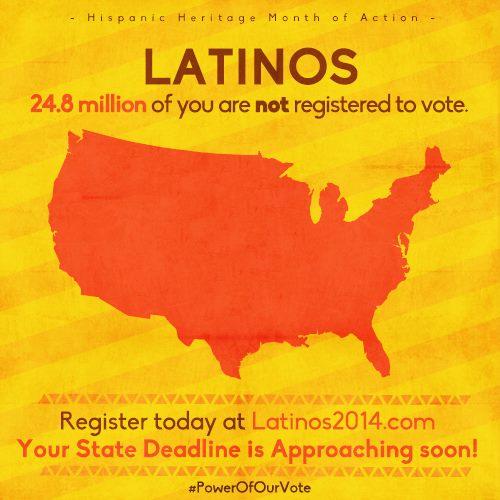 Voto Latino spearheaded the first Hispanic Heritage Month of Action, a national voter registration campaign. In partnership with Mi Familia Vota and over 87 partners the campaign was piloted under the slogan, Pride in Our Culture, Power of Our Vote. Through culturally relevant online content, on-the-ground activation and distribution of partner toolkits, we educated and engaged Latinos at a national level, resulting in 261 million social media impressions and a reach of 81 million across social platforms.
August 2014: VL Relaunches United We Win
Voto Latino and Global Grind joined forces to relaunch United We Win in response to the increasing number of wrongful shootings of young men of color, including Michael Brown. The hope was to provide an outlet for those who feel driven to change their communities by registering to vote and electing leaders who represent the entire community's voice.
April 2014: VL Power Summit Tour
In celebration of Voto Latino's 10th Anniversary, we took the Power Summit leadership conference on tour in 2014. We stopped in New York City, Miami, and San Antonio, before bringing the tour to a close in San Jose. Throughout the year, over 1,200 attendees, including participants, speakers, and supporters, converged to network and learn about advocacy, leadership, and media & technology.
April 2014: VL Innovators Challenge
In partnership with the MacArthur Foundation, Voto Latino launched VL Innovators, a tech competition for Millennial-led projects using technology to solve an issue in the Latino community. Winners received between $30,000 and $100,000 along with connections to tech partners, and a personalized training bootcamp at Google HQ in CA.
April 2013: I'm Ready for Immigration Reform
The "I'm Ready for Immigration Reform" campaign was made up of national organizations and prominent voices demanding comprehensive immigration reform with a sensible pathway to citizenship. A diverse group of constituencies were represented, including Voto Latino's Co-Founder Rosario Dawson, actors Wilmer Valderrama and America Ferrera, AFL-CIO, APALA, League of Young Voters, Human Rights Campaign, NAACP, Rock the Vote, and the United States Hispanic Chamber of Commerce, among others.
September 2012: First National Voter Registration Day

2012 marked the first National Voter Registration Day (NVRD). Now held every fourth Tuesday in September, NVRD is designed to remind and encourage eligible Americans to register and vote. In 2014, the National Association of Secretaries of State proclaimed NVRD an official holiday for the next five years, and in August of 2015, President Barack Obama endorsed NVRD during a speech on the 50th Anniversary of the Voting Rights Act.
July 2012: Rep Ur Letters Challenge
In advance of the 2012 presidential election, Voto Latino launched Rep Ur Letters, which challenged Latino fraternities and sororities to see who could register the most eligible voters. Eighteen national organizations joined the challenge. The 2012 Rep Ur Letters winner was Lambda Theta Alpha Latin Sorority, Inc.
June 2012: America4America

In June 2012, Voto Latino and America Ferrera launched America4America. The campaign was a media, grassroots, and online effort to deliver a message to young Latinos that united we build a better country.
April 2012: First VL Power Summit
Voto Latino held its first annual Power Summit conference at the University of Southern California in April 2012. The two-day conference had over 250 participants and 37 speakers, including activist Dolores Huerta and Cenk Uygar of The Young Turks.
March 2012: Make it Count in 2012
In preparation for the 2012 presidential elections, Voto Latino launched the Make it Count in 2012 campaign, encouraging young Latinos to mobilize, register, and vote. The campaign also included a satirical PSA series titled The Enforcers, directed by VL supporter, Wilmer Valderrama. Valderrama was joined by a star-studded cast including Demi Lovato, Michael Peña, Rafael Amaya, and Rob Huffman.
November 2010: MSNBC Beyond Borderlines

Voto Latino teamed up with MSNBC to produce Beyond Borderlines, an Emmy-nominated two-hour live special on immigration. Voto Latino's Maria Teresa Kumar and MSNBC's Lawrence O'Donnell co-hosted. Guests included Rosario Dawson, Jose Diaz Balart, and Dolores Huerta. Beyond Borderlines was the first English language town hall with a Latino focus.
September 2010: United We Win
In 2010, Voto Latino launched the United We Win campaign. Motivated by the injustice of Arizona's racial-profiling law (SB 1070), United We Win registered more than 10,000 voters in four weeks in preparation for the 2010 midterm election. The campaign included a PSA with a celebrity cast including Rosario Dawson, Jessica Alba, Eva Longoria, and Common.
March 2010: Be Counted, With MTV

In March 2010, Voto Latino announced Be Counted, an initiative to ensure that Latinos were counted in the 2010 Census. The campaign became a top-four non-profit channel on YouTube with more than 500,000 views, generating 15,000 pledges to fill out the Census and $150 million in federal funding for Latino communities.
May 2009: First Our Voices Reception

2009 marked the first annual Our Voices reception, a signature event during the White House Correspondents' weekend that recognizes the importance of diversity in media. Honored guests have included Gina Rodriguez, and Arianna Huffington.
April 2008: Crash the Parties
Voto Latino, in partnership with Si TV, launched 'Crash the Parties', a search for two young Latinos to cover the Democratic and Republican National Conventions as Sí TV reporters.
January 2008: La Pasión de la Decisión
Voto Latino teamed up with Declare Yourself to produce La Pasión de la Decisión, a 5-part voter registration video campaign to mobilize Latinos to vote in 2008. The series, featuring Rosario Dawson, Wilmer Valderrama, and others, won a Webby Award for best online film/video promoting public service and activism.
November 2007: VL Action Awards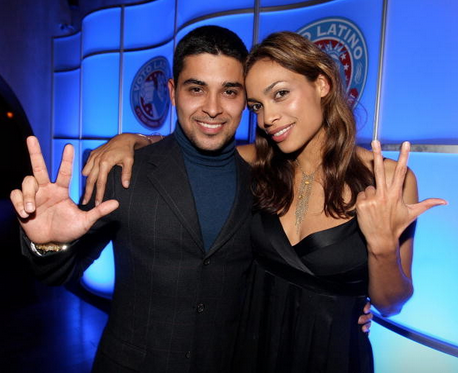 The Voto Latino Action Awards, held in Hollywood, CA, honored those who supported the Voto Latino mission in its first few years. Honorees included Wilmer Valderrama, Norman Lear and Jeannette Acosta.
September 2006: VL Midterms PSA
In preparation for the 2006 midterm election, Voto Latino launched a series of PSA videos that included Pitbull, Chingo Bling, and Nina Sky encouraging young Latinos to vote. The award-winning PSAs were produced in conjunction with mun2, were written by Voto Latino and directed by mun2 Creative Director Ricardo de Montreuil.
August 2006: Text2Represent
In 2006, Voto Latino launched the first-ever voter registration effort through text messaging in the Text2Represent campaign. Aimed at registering Latino youth, Voto Latino pioneered the use of SMS as a political tool.
"If 65 million people were willing to text their votes for American Idol, perhaps at least a few of them might pick up their phones to sign up for something a little more important." – Rosario Dawson
August 2004: Voto Latino Launches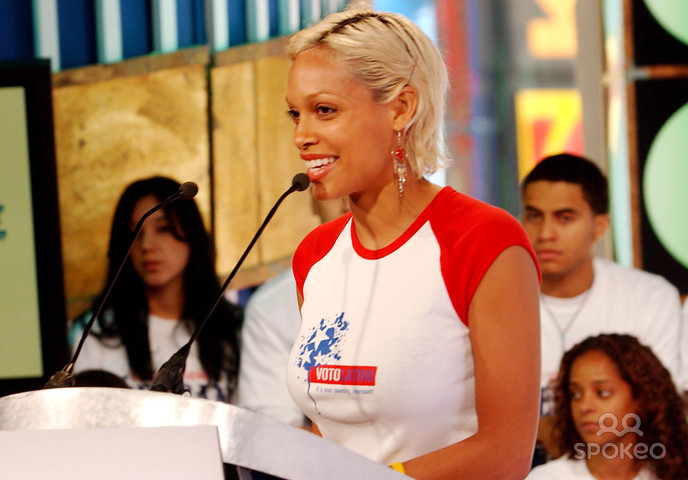 In August 2004, Voto Latino was officially launched at the MTV studios in New York City. Co-founder Rosario Dawson was joined by celebrity supporters such as Romeo Santos, John Leguizamo, and Nina Sky, and Reps. José Enrique Serrano and Mario Diaz Balart.